Marti MacEwan, MA

has the cure for stage fright
to help you succeed as a speaker, leader or performer
in business, the performing arts,
public service, the media or education.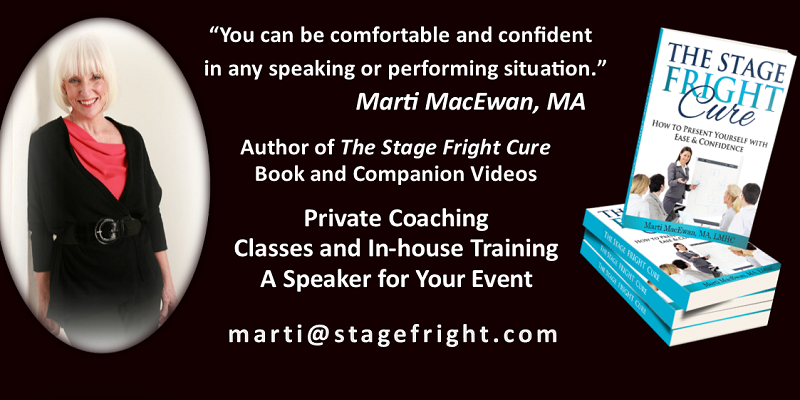 Hello. Marti MacEwan, here.
I assure you: I know
what stage fright is,


what it feels like,

why you have it and

what to do about it.

As a result of many years of professional experience and observation, I have developed an original theory and a unique, practical technique for overcoming (by that I mean eliminating) any kind of stage fright, performance anxiety or fear of public speaking. I guarantee you: you will not find this method anywhere else.
Let me send you a Free Report on The Stage Fright Cure – what it is and how it works.
I will also keep you updated on upcoming events, tips and resources.
You may, of course, unsubscribe at any time.
Whether you are concerned about on-stage performing, public speaking, leadership or any other kind of personal or professional performance, contact me personally for
more detailed information
a private complimentary consultation,
a private appointment, in person in Seattle or online from anywhere,

in-house training,

a speaker or break-out session for your event or conference,
with any question or comment.
I would be happy to chat about what you need.
Send a private message here: