The Stage Fright Cure



So you can be free of stage fright or fear of public speaking.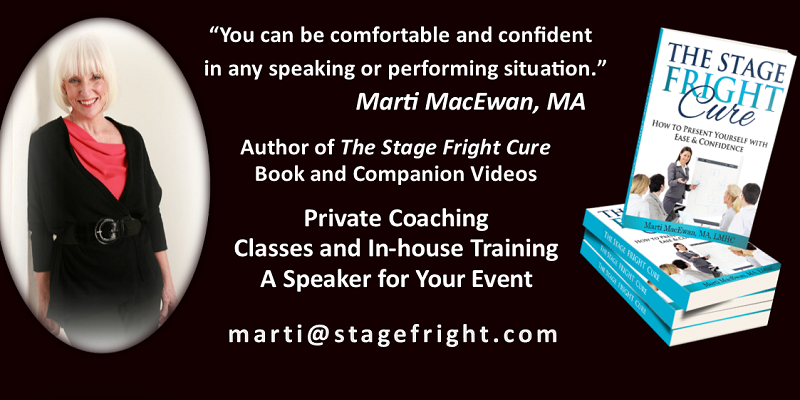 Marti MacEwan is an expert in eliminating – not just managing – nerves and fear and maximizing ease and positive energy in any situation. Private coaching gives you the unique opportunity to resolve your personal concerns in a safe, professional and confidential setting.
In The Stage Fright Cure book and tutorial videos, Marti explains where stage fright comes from and why you have it, then walks you through the remedy, including the Rapid Relief Process(tm), that eliminates the the uncomfortable symptoms that can interfere with your best performance.
Marti is an excellent trainer and speaker. Her in-house trainings, presentations and breakouts are energetic, informative, entertaining and demonstrate real-time the power of her unique approach. She brings her warmth, wisdom, knowledge and humor to every event.
Hello. 
Marti MacEwan, here.
I assure you I know
what stage fright is,


what it feels like,

why you have it and

what to do about it.

As a result of many years of professional experience and observation, I have developed an original theory and a unique, practical technique for overcoming (by that I mean eliminating) any kind of stage fright, performance anxiety or fear of public speaking. I guarantee you: you will not find this method anywhere else.
Let me send you a Free Report on The Stage Fright Cure – what it is and how it works.
I will also keep you updated on upcoming events, tips and resources.
You may, of course, unsubscribe at any time.
Whether you are concerned about on-stage performing, public speaking, leadership or any other kind of personal or professional performance, contact me personally for
more detailed information
a private complimentary consultation,
a private appointment, in person in Seattle or online from anywhere,

in-house training,

a speaker or break-out session for your event or conference,
with any question or comment.
I would be happy to chat about what you need.
Or send a private message here:
Note:  If you are looking for Marti's professional Voice-Over services, visit
www.martisvoice.com