About Marti and The Stage Fright Cure
Order The Stage Fright Cure Book.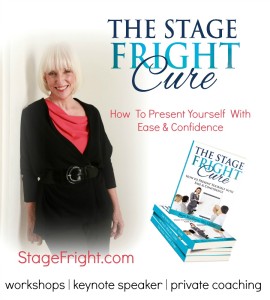 Marti MacEwan, MA, LMHC is a long-time professional counselor and coach, informative trainer and inspiring speaker who is an expert in overcoming stage fright of all kinds.
Marti's mission, in fact, is to give you the tools you need to be truly free of the fear of public speaking, performance anxiety, presentation fears and "stage fright" in any setting.
According to Marti's definition, you don't have to be a "performer" in the usual sense to have stage fright. There may or may not be an actual stage or formal audience involved at all.
Stage fright is simply the anxiety or fear that arises unbidden when you are the focus of attention, no matter the situation, no matter whether it's in front of one or thousands.
If you have it – you can get over it.
It doesn't matter whether you are in business, sales, teaching, politics, law or the professions. It doesn't matter whether you are in the media, entertainment, sports or the arts. It doesn't matter whether you are highly accomplished, a beginner or a student. It doesn't matter whether you need to actually perform for others or just simply introduce yourself, lead a meeting or make a presentation or a sales call.
If you have performance fear, it can take the joy and power out of presenting yourself to others. It can seriously hamper your immediate future and limit your long term success.
Marti can help.
She has a cure.
Professional Background:
Marti brings her many years as a professional licensed therapist to her work in helping people to overcome stage fright of all kinds. She has been in private practice in Seattle since 1982 and has included the all-important, advanced mind-body techniques in her work since 1996.
In recent years, she has developed a specialty in helping clients overcome stage fright and performance anxiety of all kinds, through private individual sessions, small group sessions and one-day intensives.
She also successfully helps her clients via internet video from anywhere in the world, and witnesses the same remarkable results in that format.
She is co-developer of the Rapid Relief Process™, a method she offers in The Stage Fright Cure book and online video program. These are the techniques that help people literally eliminate their performance fears on the physical/emotional level.
For many years, she has taught her more general class, Emotional First-Aid™, based on the same methods, for the public as well as for her professional colleagues.
Personal Background:
Marti is no stranger to stage fright herself. In fact, she discovered how to conquer her own fear of singing in public and now performs as a singer and songwriter without stage fright!
As a result of her quest to overcome her own stage fright and her extensive clinical experience helping others, Marti has understands the true psychological origins and therefore the true cure for stage fright.
She knows what it is, what it feels like, where it comes from and, far more importantly, what to do about it.
She shares her discoveries in her combination book and video series:
The Stage Fright Cure
How to Present Yourself
with Ease and Confidence
If you have stage fright, or know people who do, please look into this.
It will help.