You can improve your skill public speaking Seattle by joining a workshop with Marti MacEwan of stagefright.com. She is a licensed therapist and a performance coach who has helped numerous people get over their stage fright. Send us a message on our website if you are interested. You can also check out Marti MacEwan's videos, blog, and book.
Public speaking can cause intense fear and anxiety in most people. Jerry Seinfeld himself quipped that we fear public speaking more than we fear death, so it might be better to be in the casket rather than give the eulogy. However, public speaking does not have to be scary when you know the right ways to overcome the fear. These three tips should be able to help you get started in overcoming your fear of public speaking Seattle.
Public Speaking Seattle Tips:
Use breathing exercises to relax. Shortness of breath is one of the symptoms of stage fright, and if you cannot breathe well, you tend to panic. Proper breathing can help relieve stress and reduce your anxiety when it is time to face your audience.
Think of yourself succeeding, but do not be afraid to make a mistake. Building self-confidence is all about accepting that you are not perfect, so it is okay to make mistakes as they are part of your growth as a professional.
Get in touch with a professional performance coach like Marti MacEwan here at StageFright.Com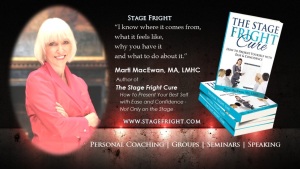 Discover The Stage Fright Cure through the workshops, seminars, classes, and professional assistance of Marti MacEwan, MA, LMHC. Marti is a licensed therapist and performance coach who specializes in phobias related to performance anxiety and stage fright in public speaking Seattle. Check out her workshops here at StageFright.Com and consider attending one of her Seattle workshops soon.
Marti MacEwan, MA, INC
10740 Meridian Ave North, Seattle, WA 98133
View Larger Map