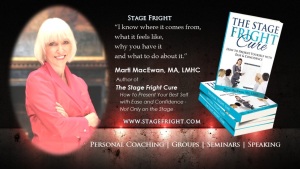 Do you experience fear speaking in public? The only way people like you used to deal with this problem is by imagining the audience is in their underwear-- and that solution is not only weird, but ineffective altogether. You can now get over your fear of public speaking through stagefright.com. Visit our website to learn more about finally overcoming your fear.
Glossophobia is the term that describes speech anxiety or the fear of speaking in public. It comes from a Greek word 'glosso' that means 'tongue', while 'phobia' comes from the same origin, 'phobos', which means dread or fear. Many people are afraid of public speaking, with stage fright being one of the common symptoms of glossophobia.
Fearing public speaking can have many downsides. Aside from being possibly ridiculed or looked down upon by some people, fear of public speaking may affect your studies and your career. In school, public speaking is often required—when you need to share a report, defend your thesis, or represent your class in student body meetings, for example. In the office, the advancement of your career may be dependent on your public speaking skills. You need to be able to communicate well with your colleagues and bosses, especially in meetings and when delivering reports.
The intense anxiety you feel before public speaking can cause you to forget things that you need to say and prevent you from properly communicating with any group of people. Fear of public speaking can affect your social life, too, especially if you feel like avoiding events where you might be called upon to speak in front of several or even a small group of people.
Fear Speaking In Public Can Be Overcome
Despite all of the downsides, fear speaking in public can be overcome with training, encouragement, and professional help from a coach like Marti MacEwan, MA, LMHC. She is a licensed performance coach and therapist who specializes in overcoming fears, anxieties, and any kind of phobia like stage fried, fear of public speaking, and performance anxiety. Learn more about Marti MacEwan here at StageFright.Com. You may also contact us through this website and explore our pages to learn more about the Stage Fright Cure.
Fear Of Public Speaking Seattle
Marti MacEwan, MA, INC
10740 Meridian Ave North, Seattle, WA 98133
View Larger Map