Office Information
I hope this answers all your practical questions.
If you need more information, feel free to call or email anytime using the contact link above.
Office Address: Northgate Executive Center II
9725 3rd Ave. N.E.  Suite 202   Seattle, WA  98115

Office Hours: In-office and online appointments are available
10 AM to 5 PM, Monday through Friday, US Pacific time.

Directions
My office is in the Northgate area of Seattle, just east of I-5 and two blocks south of Northgate Mall.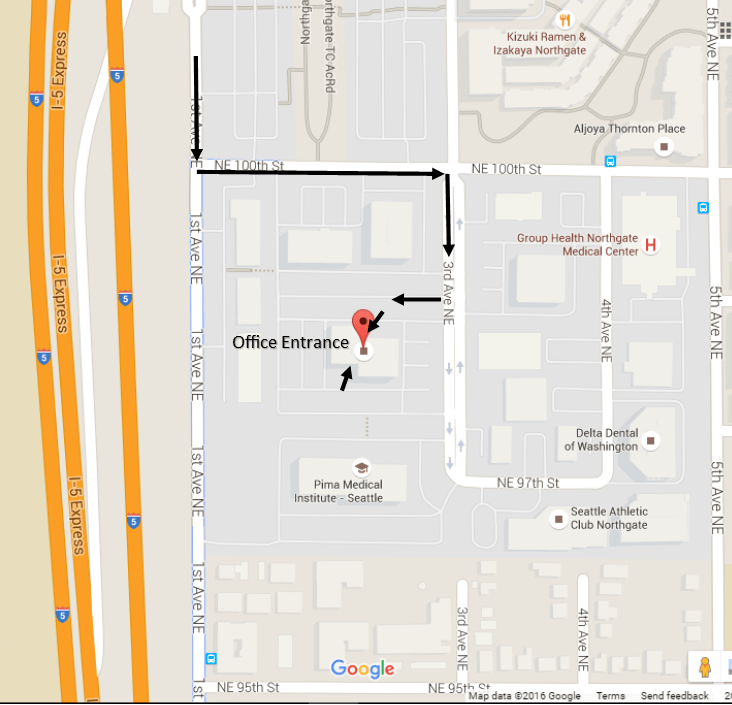 From the south: 
Go north on I-5 and exit at the Northgate exit. At the bottom of the ramp, go right (south parallel to the freeway). Turn left at NE 100th and then right into the office park at 3rd Ave. N.E. The Northgate Executive Center II building is on your right. The office is in Suite 202.
From the north: Go south on I-5. Exit at the Northgate Exit and head east. Turn right onto 1st Ave. N.E. and continue past Northgate Mall, which is on your left. Then turn left at NE 100th and right into the office park at 3rd Ave. N.E. The Northgate Executive Center II building is on your right.
By bus: Take any bus that goes to the Northgate Transit Center just south of Northgate Mall. Walk across the street to the south and go between the two white buildings. You will see my building straight ahead across the parking lot.
Directions to the Northgate Executive Center Conference Room.
Insurance & Billing
If you are working with me privately, your fee may be covered, at least in part, by your health insurance. Your work with me will likely be covered to the extent your specific insurance plan allows if the you have:
A Premera plan

A plan that allows coverage for "out-of-network" or "non-participating" mental health professionals.

Auto insurance that covers emotional recovery.
Ask your health insurance company if your plan will cover work with me specifically, or by virtue of my being a Licensed Mental Health Counselor. For their reference, my Tax ID# is 911629144. It is well worth a call to your health insurance provider to find out.
At the time you come in for a session the amount you pay me depends on your insurance plan. You would either pay me:
nothing, or a pre-determined co-pay, if I am billing your insurance directly.

the full amount if you are paying privately or if I am giving you a receipt for out-of-network reimbursement by your insurance plan.
If I have billed your insurance, there may be an amount billed to you after they have paid their amount. You can cover that amount by paying me at a session if we are still meeting or sending a check. I do also take credit card payments with a small fee added to cover the service. Please call for my current rates.
New Client Forms
If you have made an initial appointment, here are links to the forms you can bring to our first session (#1 – #4). (The Privacy Policy, #5, is for your information only.) Filling these out ahead and bringing them in will save time during the session so that we can concentrate fully on your needs.
I look forward to seeing you soon.