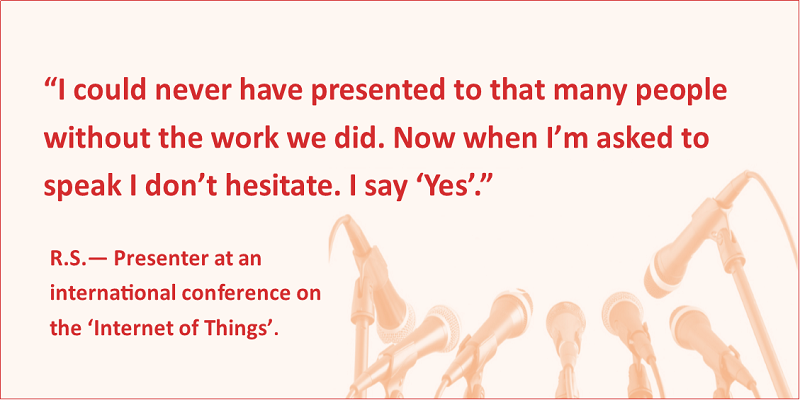 Do you have a fear of public speaking?
Would you like to speak with more


comfort, confidence and personal power?



Marti MacEwan, MA, Author and Stage Fright Expert

 
offers her training for the public or in-house.
Fearless Powerful Speaking
From the Inside Out
Let's face it. Presenting yourself confidently is ranked as one of the top skills for career success, and more so all the time. Whether you are in a corporation, an entrepreneur, an educator, solo practitioner or in a job search, presenting yourself well makes all the difference. And many of us have personal situations, too, that call on us to be confident speakers.
If you have public speaking fear, you are not alone. It's one thing to have the skills, knowledge, information or ideas to present. It's quite another to be able to present them with the calm confidence that inspires confidence in you.  It is said that up to 90% of ineffective speaking is due solely to nerves. 
That's what this meetup is all about: helping you get past the nerves and fear that get in the way of your message, so you can get past your public speaking fear and speak with comfort, confidence and clarity.
This day-long, small group, intensive professional training, is led by Marti MacEwan, MA, long time Stage Fright Coach and author of The Stage Fright Cure. Marti will show you how to apply her original method to eliminate any fear of public speaking and present your best, most confident self in any setting.
Public speaking fear gone with Fearless Powerful Speaking: results guaranteed. 
The Fearless Powerful Speaking professional in-house training includes the The Stage Fright Cure book and companion videos. a pre-training orientation, personal attention and professional guidance, and a post-series follow-up. It will help you with speeches, presentations, networking, meetings, interviews, auditions, videos, oral exams and more – in business, the arts, the media, professions or academics.
So if you have public speaking fear of any kind, contact me or check out the Fearless Powerful Speaking (from the Inside Out) free Meetup class at meetup.com/fearlesspowerfulspeaking.

Call 206.362.8167 or email: marti (at) stagefright.com.
To order the free Stage Fright Cure Report and be notified of upcoming events, click here: