Some people can miss out on showcasing their true talents when they have performance anxiety Seattle. Calm one's self before and during a performance is easier said than done. You can visit stagefright.com to start addressing your stage fright problem. Our talented speaker Marti MacEwan is a licensed performance coach and therapist who can help you through your ordeal.
Millions of Americans are affected by stage fright or performance anxiety. Performance anxiety Seattle is more common among actors, public speakers, musicians, and athletes—whether they are professional or not. In some cases, it can be so severe that it can prevent you from enjoying the performance and communicating properly with your audience. At its worse, performance anxiety can affect your career and lower your self-confidence and self-esteem.
Help For Stage Fright Seattle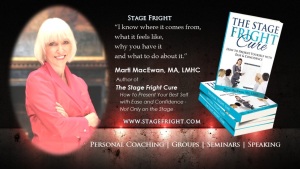 It can be stressful to be the center of attention and when you know that everyone's eyes are on you. Your body may react to the situation in a similar way as it would when you are being attacked. The fight-or-flight mechanism activates, so the symptoms of performance anxiety are similar to the ones you may experience when you are in actual danger. The symptoms may include dry mouth and a tight throat, rapid breathing and a racing pulse, cold and sweaty hands, trembling voice and shaking in the knees, hands, or lips, changes in vision, and an uneasy feeling in the stomach or nausea.
The truth is, even the most professional performers still experience performance anxiety in one way or another, but they have ways to overcome their stage fright or at least control their emotions and minimize the anxiety. You can also learn the proper ways to calm your nerves with the help of a professional performance coach like Marti MacEwan, MA, LMHC here at StageFright.Com. Discover The Stage Fright Cure from a licensed therapist and check out her upcoming workshops, seminars, and events. Marti holds classes and on-site trainings that help people overcome their performance anxiety Seattle. Explore StageFright.Com to learn more.
Stage Fright Seattle
Marti MacEwan, MA, INC
10740 Meridian Ave North, Seattle, WA 98133
View Larger Map