What is stage fright, you might ask. If you panic when go up on stage and realize that a large number of people will be looking at you, watching you, and waiting for you to speak or simply do something, then you might have this condition. If you do realize you have stage fright, just know that there is something you can do about it. Visit our website stagefright.com to see what we can do for you.  
Understanding what is stage fright can help you overcome the feelings of extreme anxiety when you have to perform on stage. A racing pulse, the nauseating feeling in your stomach, cold and sweaty hands, and shaky hands or knees are the symptoms of performance anxiety or stage fright, which is one of the most common fears in America. Even the most seasoned public speakers and actors may still go through a bit of stage fright, so don't worry—you are certainly not alone.
Stage fright can prevent you from enjoying your performance and delivering the best that you could when you have to perform or speak to a group of people. It can negatively affect your self-confidence and self-esteem, too. It may be impossible to completely overcome stage fright, but there are things that you can do to minimize the anxiety and control your emotions.
What Is Stage Fright Cause?
Being stressed and anxious about performing in front of an audience causes stage fright. If you want to overcome those feelings, experts recommend learning how to accept yourself, identify and confront your vulnerabilities and fears, and remember that you do not have to prove yourself to other people. After all, nobody is perfect and it is okay to make mistakes once in a while.  Next, you need to learn to redirect your negative images, beliefs, thoughts, and predictions on your public performance.
What Is Stage Fright Treatment?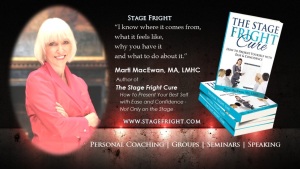 Marti MacEwan, MA, LMHC can help you understand what is stage fright further through her personal coaching, workshops, and seminars in Seattle. Check out the schedules here at StageFright.Com and take steps to learn about The Stage Fright Cure. Marti MacEwan is a licensed therapist and performance coach with experience in helping individuals, leaders, musicians, employees, and performers overcome their stage fright.
Marti MacEwan, MA, INC
10740 Meridian Ave North, Seattle, WA 98133
View Larger Map